Regular price
Sale price
$125.00
Unit price
per
Save
Sold out
What You Get

The TFC SoleMate can be used as a:

✔ Cork massage roller

✔ Mini foot roller

✔ Balance beam

✔ Slant board

✔ 2 x toe resistance bands
The Benefits

SoleMate training can help:

✔ Mobilise toes, feet and ankles

✔ Strengthen lower body

✔ Improve balance

✔ Relieve foot pain and tension

✔ Improve posture and alignment 

✔ Improve and prevent common conditions such as plantar fasciitis, bunions, ankle sprains, Achilles tendinitis.
12-Month Guarantee

The Solemate comes with a 12 month guarantee. If you have any issues, just get in touch and we will send you a replacement!
View full details
We are committed to donating $1 from every Solemate or Solemate Kit sold to reforestation efforts.
Are your soles looking for a mate?

Made from cork, TFC SoleMate is our all-in-one, eco-friendly, lightweight and durable mobility and balance tool.
Every TFC SoleMate comes with an in-depth online training system with 60+ exercises and a full structured program to ensure you get the most out of it.
This is the perfect companion to assist in the prevention and rehab of common foot/ankle conditions e.g. plantar fasciitis, bunions, ankle sprains, Achilles tendinitis.
Community app/website totally overwhelming!
Finally got the sole mate out of the box yesterday. I find the Community app that they recommended is hard to negotiate and overwhelming.
Think l will find a recommendation for a podiatrist to show me how to use it.
So much more than expected!
Wow! I never expected training my feet, including strengthening and balance, would have such an effect on my overall health, but it does! From my lower back pain to shoulder pain, I have seen an incredible improvement on overall physical health, which is having an impact on my mental health, too! Now THAT'S a SoleMate!!
Restores normal foot mobility
Simon Reid principal physiotherapist at Macquarie Street Physiotherapy, in the Sydney CBD reviews the new Sole Mate foot restoration tool from The Foot Collective Australia in the below you tube video. Having experienced foot and achilles pain himself, he has felt a dramatic improvement since using this tool
The video demonstrates the exercises you can do to strengthen and restore normal foot mobility using this tool. This is a product he happily recommends to patients and uses in strength classes at the practice. Simon hopes these exercises assists current and future patients to get creative in their exercise routines, and stay active.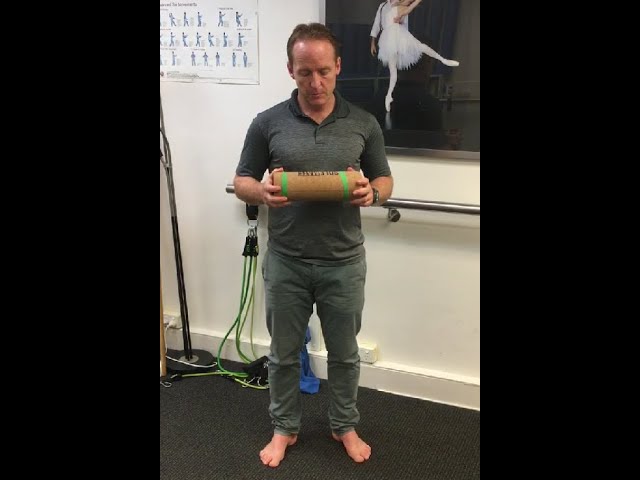 Variety of fun play
I am very happy with my SoleMate and that there is no limit to the range of balance exercises from less challenging to very challenging, the limit is my imagination. The many training videos are very helpful and the weekly challenges at TFC explorer keep me interested.
Great Program but a little hard to navigate
I'm already seeing changes happening for the better with the foot pain I was having as I implement the training program into my life. I do find the online training a little confusing to navigate. Seems to be too many links, too many start here, and not a clear cut start here approach.
Meet Your New SoleMate
The SoleMate is an eco-friendly, all-in-one foot restoration, balance, mobility, self-massage & strength training tool.

Lightweight, portable and durable, it's the perfect partner for your journey to foot freedom.
Join The Foot Health Revolution
Designed by physiotherapists and backed by podiatrists worldwide, the TFC SoleMate is changing lives and freeing feet across the globe.

Thousands of humans are using the SoleMate Training System to prevent and rehab of common foot/ankle conditions such as plantar fasciitis, bunions, ankle sprains and Achilles tendinitis.
FAQ
I have a specific injury or condition, will the TFC Solemate help me?

Our products and training are all aimed at improving foot mobility, strength and control as well as whole-body coordination and balance.

This training combined with a transition towards 'natural' footwear (and spending more time barefoot) is the best way to restore natural foot function.

Most people will find that this process will improve their condition and reduce or eliminate their pain, however there can be many other factors that contribute to the experience of pain and individualised guidance is key here.
How is the SoleMate sustainable?

The answer is simple: Cork is 100% natural, biodegradable and completely environmentally friendly. Harvested from the bark of cork oak trees, the extraction process doesn't harm the tree. 

Cork bark is incredibly durable because of its unique honeycomb cellular structure. The tiny sealed 14-sided polyhedrons contain 90 percent air, meaning cork bark can be compressed to almost half its size and quickly bounce back to its original shape like a resilient cushion. It's essentially mother nature's shock absorber, plus its natural properties are anti-allergenic waterproof and fire resistant too!
How do I care for my SoleMate?

The best way to care for your SoleMate is to ensure your feet are clean before use.

If you do notice your SoleMate looking a little dirty just use a sponge or rag and a solution of basic soapy water to gently scrub the cork. 

Mold and mildew love wet cork so make sure you remove all the water from after cleaning it.

Use a cloth and press on the cork to dry it. Once you've pressed out as much water as you can, leave the cork to air dry completely.

Do not store the SoleMate until it is completely dry.
Does the SoleMate come with a guarantee?

The Solemate comes with a 12 month guarantee. If you have any issues, just get in touch and we will send you a replacement!